Paul Joseph Watson
Infowrs.com
February 23, 2011
A Seattle cafe has sensationally banned TSA workers from entering its business premises, refusing service as a consequence of the odious reputation the agency has required in the aftermath of a nationwide revolt against invasive pat down procedures and naked body scanners.
As a symbolic protest against "enhanced pat down procedures" that involve TSA agents literally touching the genitalia of passengers, including young children, the boss of a cafe near Seattle-Tacoma International Airport has blacklisted TSA workers in retribution for their role in eviscerating the Fourth Amendment and assaulting all notions of decency.
"We have posted signs on our doors basically saying that they aren't allowed to come into our business," cafe worker KC McLawson told Christopher Elliott. "We have the right to refuse service to anyone."
My boss flies quite a bit and he has an amazing ability to remember faces. If he sees a TSA agent come in we turn our backs and completely ignore them, and tell them to leave.

Their kind aren't welcomed in our establishment.

A large majority of our customers — over 90 percent — agree with our stance and stand by our decision.

We even have the police on our side and they have helped us escort TSA agents out of our cafe. Until TSA agents start treating us with the respect and dignity that we deserve, then things will change for them in the private sector.
As we have documented, TSA workers have proven themselves time and time again to be prone to predatory criminal behavior, the exact opposite psychological profile that is suitable for people involved with airport security. Perhaps this is why they are almost universally loathed by the Americans people and why many airports are trying to turf out the agency entirely and replace TSA workers with private screeners.
Over the past few years, TSA agents have been caught in numerous acts of criminality and abuse of their positions, including;
– Stealing thousands of dollars of cash and other valuables from airport travelers
– Repeated assault of passengers and their own TSA colleagues
– Drug abuse while on the job leading to maniacal bouts of screaming and insane power trips
– Stealing laptops and other expensive electrical items
– Sabotaging sensitive screening databases
– Offensive jokes about planting drugs on travelers
– Hundreds of cases of forcefully groping travelers, exposing breasts, removing sanitary towels from vaginas, and brazenly targeting attractive women for enhanced screening and sexual abuse
– Abducting and sexually assaulting women
– Multiple sex crimes targeting underage minors
– Downloading thousands of child porn images
– Abusing naked body scanners to sexually harass female colleagues and taunt male colleagues about the size of their penis
Given the nature of that list, and it's barely scratching the surface, it's hardly surprising that businesses across America are starting to blacklist TSA agents and refuse them service.
On the flip side, the list also explains why prank callers who contact the TSA about job opportunities while pretending to be sexual perverts, porn addicts and pedophiles are also treated seriously by TSA staffers.
TSA workers have earned a reputation not too far removed from Nazi troops who occupied Europe during world war two, many of whom were treated similarly in that some businesses refused to serve them even under threat of arrest.
Stock up with Fresh Food that lasts with eFoodsDirect (Ad)
The motivations of someone who wants to apply for a job that involves them sexually molesting the bodies of young children and ogling naked images of people's genitalia tells you everything you need to know about the psychological disposition of any TSA worker, before they've even got the job.
Legislation aimed at making the misuse of body scanners a federal crime punishable by a $100,000 fine and a year in jail is a start, but the only real solution that will end the tyranny of the TSA is to disband the agency entirely and confine it to the scrap heap of post-9/11 paranoia.
—
Paul Joseph Watson is the editor and writer for Prison Planet.com. He is the author of Order Out Of Chaos. Watson is also a fill-in host for The Alex Jones Show. Watson has been interviewed by many publications and radio shows, including Vanity Fair and Coast to Coast AM, America's most listened to late night talk show.
PR.com
February 23, 2011
The InfraGard National Members Alliance held a critical sector forum examining the domestic threat and radicalization issues. INMA Chairman Dr. Kathleen Kiernan and Advisory Board Member Bryan Ware welcomed a distinguished panel consisting of Dawn Scalici, Deputy Under Secretary for Analysis at the DHS; James McJunkin, Assistant Director in Charge of the FBI's Washington Field Office; and Russ Porter, Director of Law Enforcement and Homeland Security in the ODNI.
Washington, DC, — The InfraGard National Members Alliance (INMA) held a critical sector forum examining the domestic threat and radicalization issues. INMA Chairman Dr. Kathleen Kiernan and Advisory Board Member Bryan Ware welcomed a distinguished panel consisting of Dawn Scalici, Deputy Under Secretary for Analysis at the Department of Homeland Security; James McJunkin, Assistant Director in Charge of the FBI's Washington Field Office; and Russ Porter, Director of Law Enforcement and Homeland Security in the Office of the Director of National Intelligence.
"Threats to our nation's critical infrastructure do not solely originate from outside our borders," said INMA Chairman Dr. Kathleen Kiernan. She added, "We have seen a number of domestic incidents occur ranging from explosive devices and active shooters which create public panic to targeted attacks on our infrastructure. InfraGard is pleased to utilize its strong relationship with DHS, FBI and ODNI as we strive to build seamless coordination and leverage each other's capabilities to protect the nation's infrastructure and increase our country's readiness and resiliency."
Bryan Ware, InfraGard Advisory Board member and CEO of Digital Sandbox remarked, "Digital Sandbox is proud to sponsor an event with such an important and timely topic and with such knowledgeable panelists. The domestic threat picture is changing rapidly and our country needs to adapt to this evolving threat situation. We at Digital Sandbox are committed to continuing to provide the analytical and operational tools that agents, security officers, analysts and decision makers need to support this critical mission."
Dawn Scalici currently serves as the Deputy Under Secretary for Analysis at the Department of Homeland Security. In this capacity she leads the analytic efforts of DHS I&A, with a special focus on advancing analysis and developing intelligence products to support the DHS leadership and state, local, tribal, and private sector partners. Prior to assuming her position at DHS, Dawn served as the Director for Production and Strategic Planning at CIA's Office of Iraq Analysis where she oversaw current and strategic analysis on Iraq and led efforts to advance planning, analytic tradecraft, and community collaboration. Ms. Scalici discussed the emerging threat from homegrown violent extremists and DHS's strategy for information sharing with state and local law enforcement and the private sector to mitigate the threat.
James W. McJunkin currently serves as the Assistant Director in Charge of the FBI's Washington Field Office. With over 24 years of service as an FBI Special Agent, he previously served in numerous senior leadership roles to include Assistant Director of the Counterterrorism Division, Chief, International Terrorism Operations Section (ITOS) and Deputy Director for Law Enforcement at the CIA. Mr. McJunkin discussed radicalization and the law enforcement response.
Russ Porter is the Director of Law Enforcement and Homeland Security in the Office of the Director of National Intelligence. Prior to accepting this position he served for 32 years in state and local law enforcement culminating in his leading the Iowa Department of Public Safety's Division of Intelligence and the State of Iowa Intelligence Fusion Center. Mr. Porter discussed the long term impact of these issues and their effect on policy and programs.
The attendees included leaders from the FBI, DHS, DoD, the military services, the intelligence community, academia, and the private sector. David Pekoske, A-T Solutions Global Security Group President said, "the combination of the experts on the panel, as well as those throughout the room, made this an incredibly valuable session to highlight the issues facing our critical infrastructure."
Dr. Kiernan added, "InfraGard and all attendees appreciate the tireless efforts and dedication these three valuable public servants give each and every day, ensuring the safety and security of our citizens, our nation, and its' critical infrastructure. We are grateful for their contributions to this continuing forum."
About InfraGard and the InfraGard National Members Alliance
The InfraGard Program began in 1996 as a collaborative effort between private sector cyber professionals and the FBI field office in Cleveland Ohio. The FBI later expanded the program to each of the FBI's 56 field offices. In 2003 the private sector members of InfraGard formed the "InfraGard National Members Alliance" (INMA). The INMA is a non-profit Delaware LLC with 501(c)3 status. The INMA LLC is comprised of 86 separate 501(c)3 InfraGard Member Alliances (IMAs) representing over 42,000 FBI-vetted, InfraGard Subject Matter Experts. The INMA has a dual-focus value proposition. First, InfraGard provides its members with unmatched opportunities to promote the physical and cyber security of their organizations, through access to a trusted, national network of Subject Matter Experts from the public and private sectors. Secondly, it provides government stakeholders, at the local, state, and Federal levels, with unmatched access to the expertise and experience of critical infrastructure owners and operators.
For more information about InfraGard, please visit www.infragard.net. For more information about the INMA, please visit www.infragardmembers.org.
Digital Sandbox provides analytic software applications, services, and information products to government agencies and large enterprises, enabling them to optimize their strategic, policy, and budgetary decisions for risk-based resource allocation. Since 1998, Digital Sandbox's analytic risk management solutions have helped customers in the National Security, Homeland Security, and Corporate Security fields to lower their risk exposure, increase the effectiveness of their risk management budgets, and maximize the return on their finite resources. Visit Digital Sandbox on the Web at http://www.dsbox.com.
Michael O'Brien
Politico
February 23, 2011
Sometimes it's necessary to get out on the streets and "get a little bloody," a Massachusetts Democrat said Tuesday in reference to labor battles in Wisconsin.
Rep. Michael Capuano (D-Mass.) fired up a group of union members in Boston with a speech urging them to work down in the trenches to fend off limits to workers' rights like those proposed in Wisconsin.
"I'm proud to be here with people who understand that it's more than just sending an email to get you going," Capuano said, according to the Statehouse News. "Every once and awhile you need to get out on the streets and get a little bloody when necessary."
Paul Craig Roberts
Prisonplanet.com
Feb 17, 2011
The United States government has overestimated the amount of shame that it and American citizens can live down.  On February 15 "the indispensable people" had to suffer the hypocrisy of the U.S. Secretary of State delivering a speech about America's commitment to Internet freedomwhile the U.S. Department of Justice (sic) brought unconstitutional action against Twitter to reveal any connection between WikiLeaks and Bradley Manning, the American hero who, in keeping with the U.S. Military Code, exposed U.S. government war crimes and who is being held in punishing conditions not permitted by the U.S. Constitution. The corrupt U.S. government is trying to create a"conspiracy" case against Julian Assange in order to punish him for revealing U.S. government documents that prove beyond every doubt the mendacity of the U.S. government.
This is pretty bad, but it pales in comparison to the implications revealed on February 15 in the British newspaper, The Guardian. [Curveball: How US was duped by Iraqi fantasist looking to topple Saddam, February 15, 2011]
The Guardian obtained an interview with "Curveball," the source for Colin Powell's speech of total lies to the United Nations about Iraqi Weapons of Mass Destruction.
Colin Powell's speech created the stage for the illegal American invasion of Iraq.The Guardiandescribes "Curveball" as "the man who pulled off one of the greatest confidence tricks in the history of modern intelligence." As The Guardian puts it, "Curveball" "manufactured a tale of dread."
U.S. "intelligence" never interviewed "Curveball." The Americans started a war based on second-hand information given to them by incompetent German intelligence, which fell for "Curveball's"lies that today German intelligence disbelieves.
As the world now knows, Saddam Hussein had no weapons of mass destruction (WMD). The Bush/Cheney Regime, of course, knew this, but "Curveball's" lies were useful to their undeclared agenda. In his interview with The Guardian, "Curveball," Rafid Ahmed Alwan al-Janabi, admitted that he made the whole story up. He wanted to do in Saddam Hussein and told whatever fantasy lie he could make up that would serve his purpose.
If the Bush/Cheney Regime had really believed that Saddam Hussein had world-threatening weapons of mass destruction, it would have been a criminal act to concentrate America's invading force in a small area of Kuwait where a few WMD could have wiped out the entire U.S. invasion force, thus ending the war before it began.
Some Americans are so thoughtless that they would say that Saddam Hussein would never have used the weapons, because we would have done this and that to Iraq, even nuking Baghdad.  But why would Saddam Hussein care if he and his regime were already marked for death? Why would a doomed man desist from inflicting an extraordinary defeat on the American Superpower, thus encouraging Arabs everywhere? Moreover, if Saddam Hussein was unwilling to use his WMD against an invading force, when would he ever use them?  It was completely obvious to the U.S. government that no such weapons existed. The weapons inspectors made that completely clear to the Bush/Cheney Regime.  There were no Iraqi WMD, and everyone in the U.S. government was apprised of that fact.
Why was there no wonder or comment in the "free" media that the White House accused Iraq of possession of terrible weapons of mass destruction, but nevertheless concentrated its invasion force in such a small area that such weapons could easily have wiped out the invading force?
Does democracy really exist in a land where the media is incompetent and the government is unaccountable and lies through its teeth every time if opens its mouth?
"Curveball" represents a new level of immorality.  Rafid al-Janabi shares responsibility  for one million dead Iraqis, 4 million displaced Iraqis, a destroyed country, 4,754 dead American troops, 40,000 wounded and maimed American troops, $3 trillion of wasted US resources, every dollar of which is a debt burden to the American population and a threat to the dollar as reserve currency, ten years of propaganda and lies about terrorism and al Qaeda connections, an American "war on terror" that is destroying countless lives in Afghanistan, Pakistan, Yemen, Somalia, and which has targeted Iran, and which has destroyed the Bill of Rights, the US Constitution, and the civil liberties that they guarantee.  And the piece of lying excrement, Rafid al-Janabi, is proud that he brought Saddam Hussein's downfall at such enormous expense.
Now that Rafid al-Janabi is revealed in the Guardian interview, how safe is he?  There are millions of Iraqis capable of exterminating him for their suffering, and tens of thousands of Americans whose lives have been ruined by Rafid al-Janabi's lies.
Why does the U.S. government pursue Julian Assange and WikiLeaks for telling the truth when"Curveball," whose lies wiped out huge numbers of people along with America's reputation, thinks he can start a political party in Iraq? If the piece of excrement, Rafid al-Janabi, is not killed the minute he appears in Iraq, it will be a miracle.
So we are left to contemplate that a totally incompetent American government has bought enormous instability to its puppet states in the Middle East, because it desperately wanted to believe faulty "intelligence" from Germany that an immoralist provided evidence that Saddam Hussein had Weapons of Mass Destruction.
And America is a superpower, an indispensable nation.
What a total joke!
——————
Dr. Paul Craig Roberts is the father of Reaganomics and the former head of policy at the Department of Treasury. He is a columnist and was previously an editor for the Wall Street Journal. His latest book, "How the Economy Was Lost: The War of the Worlds," details why America is disintegrating.
The American Dream
February 17, 2011
For a moment, imagine that you are awakened one night by a heavily-armed team of federal agents dressed in all black breaking into your home.  As you confront them, they hand you a piece of paper that says that your son has been identified as a "terrorist" and that they are there to take him away.  They pull your son out of bed, they throw him on the floor and the use a taser on him repeatedly.  Then they handcuff him and haul him away without telling you a thing about where they are taking him.  Your son suddenly has no rights because the Patriot Act supersedes the U.S. Constitution.  That's right – because your son has been identified as a "terrorist" because of something that he has said on the Internet he no longer has any constitutional rights.  Your underage son is held indefinitely and is subjected to "enhanced interrogation" because he has been identified as a "threat".  You are not able to get your son back for years even though it turns out that he is completely and totally innocent.  If you think that such a thing cannot happen to you then you are a fool, because this kind of thing is happening over and over across the United States and it is all legal because of the Patriot Act.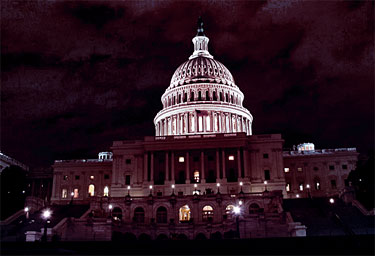 America is rapidly turning into a horrible Big Brother police state and most of our politicians are fully supporting this transformation.  In fact, the U.S. House of Representatives gave us quite a Valentine's Day gift the other day when it voted to once again extend provisions of the Patriot Act that allow for domestic surveillance of American citizens, wire tapping of American citizens and warrantless searches of the homes of American citizens.
What was perhaps most disappointing was that a large number of "Tea Party politicians" cast votes in favor of renewing the Patriot Act provisions.
The majority of Americans were absolutely disgusted when the Bush administration instituted the Patriot Act and many other police state measures and they voted for Barack Obama hoping for something different.
Well, it turns out that Barack Obama has been even worse.
Have you been to an airport lately?  Yeah, those "naked body scanners" and "enhanced pat-downs" are a lot of fun, aren't they?
Many Americans voted for Tea Party candidates during the last election hoping that they would be willing to stand up for liberty and freedom.
Well, it turns out that many of them caved when it came time to vote on the extension of Patriot Act provisions.
So is there anyone out there that we can vote for that will stand up for liberty and freedom?
The truth is that this is not a conservative issue and it is not a liberal issue.
This is an American issue.
But doesn't the Patriot Act keep us safe from terrorism?
No.
Just the other day Dr. Vahid Majidi, the FBI's assistant director in charge of the FBI's Weapons of Mass Destruction Directorate, admitted that even with all of our "security measures" the chance that the U.S. will be hit a weapon of mass destruction is 100 percent….
"There's a probability of 100 percent that a WMD event will happen."
But even if the Patriot Act could keep us "safer", is that any reason for us to live the rest of our lives as "cattle" in a Big Brother police state that is becoming more like George Orwell's 1984 every single day?
Are we willing to forever renounce being "the land of the free and the home of the brave" just so that we can feel a bit more secure?
The truth is that the U.S. government is not really protecting us anyway.  Our border with Mexico is wide open and millions of people have been pouring across it unchecked.  It would be ridiculously easy for any potential "terrorists" to smuggle dangerous weapons into this country.
So please don't try to tell me that the U.S. government is actually serious about national security.  Until the U.S. government is willing to do something about the border they should not be asking the American people to give up a single ounce of liberty or freedom for the sake of "security".
But instead of securing the border and doing other practical things that would actually keep this country safer, our government has become absolutely obsessed with watching us, tracking us, listening to us, "assessing" us and controlling us.
In the process, the America that we all once loved is rapidly being destroyed.  Because of laws like the Patriot Act, our country now more closely resembles East Germany during the Cold War than the nation that our founding fathers originally established.
Government whistleblower Susan Lindauer, who has been arrested under the Patriot Act for protesting the Iraq war, recently authored an article in which she described why Americans should be much more frightened by the Patriot Act….
The American people are not nearly as frightened as they should be. Many Americans expect the Patriot Act to limit its surveillance to overseas communications. Yet while I was under indictment, Maryland State Police invoked the Patriot Act to wire tap activists tied to the Chesapeake Climate Action Network, an environmental group dedicated to wind power, solar energy and recycling. The DC Anti-War Network was targeted as a "white supremacist group." Amnesty International and anti-death penalty activists got targeted for alleged "civil rights violations."
Lindauer is speaking from experience when she talks about the Patriot Act.  Just hope and pray that you never have to go through what she had to go through because of the Patriot Act….
I cannot forget. I cannot forget how I was subjected to secret charges, secret evidence and secret grand jury testimony that denied my right to face my accusers or their accusations in open court, throughout five years of indictment. I cannot forget my imprisonment on a Texas military base for a year without a trial or evidentiary hearing.

I cannot forget how the FBI, the US Attorneys Office, the Bureau of Prisons and the main Justice office in Washington — independently and collectively verified my story— then falsified testimony to Chief Justice Michael Mukasey, denying our 9/11 warnings and my long-time status as a U.S. intelligence Asset, though my witnesses had aggressively confronted them. Apparently the Patriot Act allows the Justice Department to withhold corroborating evidence and testimony from the Court, if it is deemed "classified."

I cannot forget threats of forcible drugging and indefinite detention up to 10 years, until I could be "cured" of believing what everybody wanted to deny— because it was damn inconvenient to politicians in Washington anxious to hold onto power.
At least there are a few members of Congress that attempted to oppose the renewal of the Patriot Act. For example, Senator Rand Paul recently explained why he opposes renewal of this freedom-killing law….
"The Senate yesterday proposed a three-year extension of the PATRIOT Act, a move that would not have allowed for any hearings, amendments, or debate. I objected to this deal. I realize that I might not have the votes to stop this bill, but we should at least discuss this in public as adults.

"We should have the opportunity to explain why the Constitution is being violated. We should talk about how we do not have to give up who we are in order to fight terrorism. It is not acceptable to willfully ignore the most basic provisions of our Constitution—in this case—the Fourth and First Amendments—in the name of 'security.'"
Unfortunately, most of our other politicians have stood by and have done nothing to stop the horrific abuses that are taking place under this law.  A good friend of ours, Charlie McGrath, recently lamented this fact in a recent video….
What in the world is happening to this country?
One of the worst things about all of this is that Christians are actually some of the strongest supporters of the Patriot Act.
The mainstream media has brainwashed many of them into believing that the Patriot Act is "conservative" and that it is going to keep us safe from terrorism.  Somehow Christians have been duped into believing that the more power Barack Obama and his minions have to control our lives the safer we all are going to be.
But the truth is that laws like the Patriot Act are transforming this nation into a totalitarian regime.  We are becoming more like North Korea, Communist China, the USSR and Nazi Germany every single day.
As a Christian, I deeply oppose laws such as the Patriot Act.  The Scriptures warn us of a time when a future world government will attempt to brutally dominate all the nations on the planet.  Just read the book of Revelation some time.
Any law that takes our liberties and freedoms away is another step in the direction of totalitarianism.  Every time another new law like the Patriot Act gets passed we get closer to the time when government completely dominates and controls every single aspect of our lives.
Christians should be loudly denouncing any attempt to strip our liberties and freedoms away.  Christians should be loudly denouncing the destruction of our constitutional rights.
Transforming our government into a hardcore socialist police state and handing it all kinds of extreme "Big Brother" powers is not going to make us safer.
Stock up with Fresh Food that lasts with eFoodsDirect (Ad)
We were sold a pack of lies by the Bush administration and now the Obama administration is trying to cram even more lies down our throats.
Many of us had hoped that Tea Party politicians would be different and would stand up for our liberties and freedoms, but now we can clearly see that many of them will not.
In the past, Americans would ready George Orwell's 1984 and would think that nothing like that could ever happen in the United States of America.
Well, it is happening in the United States of America.
Are you going to stand up and say anything about it?
Paul Joseph Watson
Prison Planet.com
February 16, 2011
In a shocking act of mass public deception, Fox News attempted to skew Ron Paul's 2011 CPAC straw poll win by representing it with footage from the previous year's CPAC event, at which Mitt Romney supporters had loudly booed the result, another example of the continuing dirty tricks campaign being waged against Paul by the establishment media.
Congressman Paul replicated his 2010 victory over Mitt Romney by defeating the former Governor of Massachusetts for a second consecutive year at the annual CPAC conference.
However, before anchor Bill Hemmer introduced a segment concerning the story, Fox News played a clip of the 2010 announcement of the poll results, during which Mitt Romney supporters had loudly booed Ron Paul's victory, passing off last year's footage as representative of this year's event.
Hemmer then proceeded to state, "In the end he was the winner, probably not the reaction he was hoping for," describing the reaction as "mixed applause and boos," before directly asking Ron Paul if he knew who was booing him.
"Who was in the audience booing you, did you get a name, did you get an ID on those people?" asked Hemmer.
In reality, there were hardly any boos after Ron Paul was announced as the 2011 CPAC winner, the result was met with a massively positive reaction, only Fox News deemed it necessary to hide that fact from their viewers. The video clip above shows the real footage from the 2011 event, proving that Fox News had attempted to deceive Americans into thinking that Paul's victory was unpopular, by deliberately using the wrong footage.
A separate We Are Change Oklahoma clip of the 2011 straw poll victory confirms that Paul's win was met overwhelmingly by a loud chorus of cheers and applause.
This is the second time in the space of a week that Fox News has deliberately used dirty tricks to try and ostracize Ron Paul by discrediting the legitimacy of his potential candidacy for president.
A Fox News poll released earlier this week which asked who would make the best president included many of the potential candidates that Ron Paul trounced in the CPAC straw poll, yet the Congressman's name was not even included in the survey.
Exemplifying again how the establishment consistently tries to derail Paul's momentum by ignoring his very existence, obscure names like John Thune and Jon Huntsman were included in the Fox poll and yet Paul was omitted entirely.
While Fox News continues to act as an accommodating platform for the pied pipers of the hijacked tea party movement, people like Tea Party Caucus leader Michele Bachmann and Sarah Palin, real conservatives like Ron Paul and his son Senator Rand Paul are subject to dirty tricks and underhanded ploys.
Given the energetic power of his grass roots base, the establishment is scared to death of Ron Paul building any kind of momentum as the 2012 campaign race nears, which is why they have to resort to pulling stunts like this to hoax the American people into thinking that the message of liberty and freedom is unpopular, when in reality it is spreading like wildfire and would completely overrun the status quo if Ron Paul was allowed to communicate on a level playing field.
—
Paul Joseph Watson is the editor and writer for Prison Planet.com. He is the author of Order Out Of Chaos. Watson is also a fill-in host for The Alex Jones Show. Watson has been interviewed by many publications and radio shows, including Vanity Fair and Coast to Coast AM, America's most listened to late night talk show.
Ron Paul
Prisonplanet.com
Feb 15, 2011
For the past three decades, the Federal Reserve has been given a dual mandate: keeping prices stable and maximizing employment. This policy relies not only on the fatal conceit of believing in the wisdom of supposed experts, but also on numerical chicanery.
Rather than understanding inflation in the classical sense as a monetary phenomenon– an increase in the money supply- it has been redefined as an increase in the Consumer Price Index (CPI). The CPI is calculated based on a weighted basket of goods which is constantly fluctuating, allowing for manipulation of the index to keep inflation expectations low. Employment figures are much the same, relying on survey data, seasonal adjustments, and birth/death models, while the major focus remains on the unemployment rate. Of course, the unemployment rate can fall as discouraged workers drop out of the labor market altogether, leading to the phenomenon of a falling unemployment rate with no job growth.
In terms of keeping stable prices, the Fed has failed miserably. According to the government's own CPI calculators, it takes $2.65 today to purchase what cost one dollar in 1980. And since its creation in 1913, the Federal Reserve has presided over a 98% decline in the dollar's purchasing power. The average American family sees the price of milk, eggs, and meat increasing, while packaged household goods decrease in size rather than price.
Loose fiscal policy has failed to create jobs also. Consider that we had a $700 billion TARP program, nearly $1 trillion in stimulus spending, a government takeover of General Motors, and hundreds of billions of dollars of guarantees to Fannie Mae, Freddie Mac, HUD, FDIC, etc. On top of those programs the Federal Reserve has provided over $4 trillion worth of assistance over the past few years through its credit facilities, purchases of mortgage-backed securities, and now its second round of quantitative easing. Yet even after all these trillions of dollars of spending and bailouts, total nonfarm payroll employment is still seven million jobs lower than it was before this crisis began.
Stock up with Fresh Food that lasts with eFoodsDirect (AD)
Deception at the Fed 101210banner4
In this same period of time, the total U.S. population has increased by nine million people. We would expect that roughly four million of these people should have been employed, so we are really dealing with eleven million fewer employed people than would otherwise be expected.
It should not be surprising that monetary policy is ineffective at creating actual jobs. It is the effects of monetary policy itself that cause the boom and bust of the business cycle that leads to swings in the unemployment rate. By lowering interest rates through its loose monetary policy, the Fed spurs investment in long-term projects that would not be profitable at market-determined interest rates. Everything seems to go well for awhile until businesses realize that they cannot sell their newly-built houses, their inventories of iron ore, or their new cars. Until these resources are redirected, often with great economic pain for all involved, true economic recovery cannot begin.
Over $4 trillion in bailout facilities and outright debt monetization, combined with interest rates near zero for over two years, have not and will not contribute to increased employment. What is needed is liquidation of debt and malinvested resources. Pumping money into the same sectors that have just crashed merely prolongs the crisis. Until we learn the lesson that jobs are produced through real savings and investment and not through the creation of new money, we are doomed to repeat this boom and bust cycle.
Aaron Dykes
Infowars.com
February 15, 2010
The testimony of Norman Mineta before the 9/11 Commission leaves compelling questions about former Vice President Dick Cheney's actions on the day of 9/11. Then Transportation Secretary Mineta witnessed Cheney refuse to contradict an apparent standdown order as an aide warned of something incoming at the Pentagon. Cheney has given conflicting reports about what time he entered the PEOC bunker. Mineta later confirmed his suppressed 9/11 Commission testimony and refuted Cheney's account of arriving later.
During the CPAC conference, WeAreChange.org confronted Cheney about these questions, which he refused to address.
"Hey Mr. Cheney, what did you do in the underground bunker on 9/11? Dick Cheney we know what you did on 9/11 with the standdown order. Norman Mineta testified against you on the 9/11 Commission report. What happened on 9/11?"

When he was being forced out, WeAreChange.org founder Luke Rudkowski calmly asked security not to push him; security backed off after asking him, 'Are you being polite?'
Luke Rudkowski and James Lane of We Are Change confront Dick Cheney in Wahsington D.C. at CPAC 2/10/2011.
WeAreChangeOklahoma – Newt Gingrich and Dick Cheney (CPAC 2011) [MEDIA NOTE: WITHOUT MUSIC OVER-SCORE]

Cheney dodged the continuing questions by exiting with his entourage into an elevator. As a woman started repeating "Thank you Mr. Cheney for all you've done," Rudkowski interjected that he was a 'terrorist.' Certainly, the use of admittedly elevated terror alerts throughout the Bush administration to stoke the fear card and score political dominion alone is reason to justify this label. The implications of what really happened on 9/11, and in relation to Cheney's apparent standdown order, is even more compelling. Notably, a change in the standard operating procedure for the chain of command during the event of a hijacked aircraft was changed in June 2001, including subjecting NORAD's response to DoD approval (SEE BELOW).
(Click each document for a larger image)
The former Vice President's re-entry into the public limelight, after years of dealing with heart issues, is what appears to be an attempt to re-brand the Bush Administration in time to retain neo-con power in the coming GOP presidential primary field, where tea party politics and candidates like Ron Paul have obviously taken root with conservative voters in the years of the Obama administration. This confrontation occurred during the same CPAC convention where Ron Paul won the presidential straw poll and Dick Cheney was heckled and called a "war-monger" during a pep rally where Donald Rumsfeld was given the "Defender of the Constitution Award."
From Norman Mineta's testimony:
"During the time that the airplane was coming into the Pentagon, there was a young man who would come in and say to the Vice President…the plane is 50 miles out…the plane is 30 miles out….and when it got down to the plane is 10 miles out, the young man also said to the vice president "do the orders still stand?" And the Vice President turned and whipped his neck around and said "Of course the orders still stand, have you heard anything to the contrary!?
Now that establishment Republicans have managed to steer the Tea Party into the political Borg Hive and run off the real patriots, it is time to get the neocon total war agenda back on track.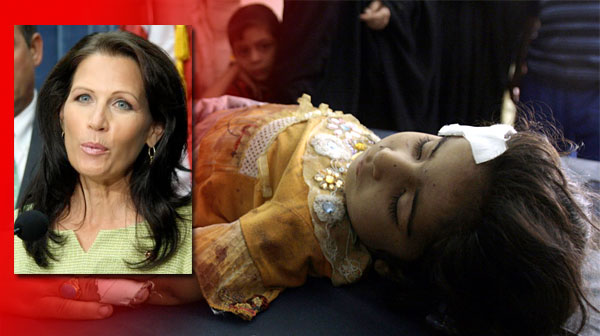 Rep. Michele Bachmann: Just another tool for the neocon mass murder agenda.
Minnesota's Michele Bachmann, like Alaska's Sarah Palin, likes to pretend she is at the center of the Tea Party movement. She talks loud and long about the Constitution and the Bill of Rights.
Last week Bachmann voted for an extension of the Constitution-busting PATRIOT Act.
Stock up with Fresh Food that lasts with eFoodsDirect (AD)
"Today I voted for a temporary extension of three legal authorities in the Patriot Act," Bachmann wrote on her Facebook on February 8. "This vote was not for a full reauthorization of the Patriot Act. As a member of the House Intelligence Committee, I look forward to briefings and reports from our intelligence community that will help us develop longer term solutions as we protect our nation against international terrorism."
"Today's vote was for a ten-month extension of three provisions that would have expired later this month," she posted on her House page. "These provisions maintain the flexibility that our intelligence community needs to monitor terror suspects and protect our country against international terrorism. As a mother of five and a foster mother to 23 children, I voted for these authorities so that our laws keep pace with the evolving threats posed by terrorists."
As a member of the House Intelligence Committee, it is fair to assume Ms. Bachmann is a tool for the CIA and the Pentagon and buys into their phony war on manufactured terror.
But then she always was a dupe for the neocons. Michelle Bachmann was so enamored with the war criminal George W. Bush, she felt compelled to hug and kiss him after his State of the Dis-functional Union teleprompter speech a few years ago.
Bachmann kisses war criminal and neocon tool George Bush.
The Bachmann-Palin neocons in Tea Party camouflage are going to take us down the same road as Bush – the same road followed unswervingly by Obama.
The globalist puppet masters need world war in order to sell their snake oil of globalist government and a return of serfdom to the masses.
Bachmann is on the Order Out o Chaos gang's team.
The question is… does she even realize it?