Ron Paul
Prisonplanet.com
Feb 15, 2011
For the past three decades, the Federal Reserve has been given a dual mandate: keeping prices stable and maximizing employment. This policy relies not only on the fatal conceit of believing in the wisdom of supposed experts, but also on numerical chicanery.
Rather than understanding inflation in the classical sense as a monetary phenomenon– an increase in the money supply- it has been redefined as an increase in the Consumer Price Index (CPI). The CPI is calculated based on a weighted basket of goods which is constantly fluctuating, allowing for manipulation of the index to keep inflation expectations low. Employment figures are much the same, relying on survey data, seasonal adjustments, and birth/death models, while the major focus remains on the unemployment rate. Of course, the unemployment rate can fall as discouraged workers drop out of the labor market altogether, leading to the phenomenon of a falling unemployment rate with no job growth.
In terms of keeping stable prices, the Fed has failed miserably. According to the government's own CPI calculators, it takes $2.65 today to purchase what cost one dollar in 1980. And since its creation in 1913, the Federal Reserve has presided over a 98% decline in the dollar's purchasing power. The average American family sees the price of milk, eggs, and meat increasing, while packaged household goods decrease in size rather than price.
Loose fiscal policy has failed to create jobs also. Consider that we had a $700 billion TARP program, nearly $1 trillion in stimulus spending, a government takeover of General Motors, and hundreds of billions of dollars of guarantees to Fannie Mae, Freddie Mac, HUD, FDIC, etc. On top of those programs the Federal Reserve has provided over $4 trillion worth of assistance over the past few years through its credit facilities, purchases of mortgage-backed securities, and now its second round of quantitative easing. Yet even after all these trillions of dollars of spending and bailouts, total nonfarm payroll employment is still seven million jobs lower than it was before this crisis began.
Stock up with Fresh Food that lasts with eFoodsDirect (AD)
Deception at the Fed 101210banner4
In this same period of time, the total U.S. population has increased by nine million people. We would expect that roughly four million of these people should have been employed, so we are really dealing with eleven million fewer employed people than would otherwise be expected.
It should not be surprising that monetary policy is ineffective at creating actual jobs. It is the effects of monetary policy itself that cause the boom and bust of the business cycle that leads to swings in the unemployment rate. By lowering interest rates through its loose monetary policy, the Fed spurs investment in long-term projects that would not be profitable at market-determined interest rates. Everything seems to go well for awhile until businesses realize that they cannot sell their newly-built houses, their inventories of iron ore, or their new cars. Until these resources are redirected, often with great economic pain for all involved, true economic recovery cannot begin.
Over $4 trillion in bailout facilities and outright debt monetization, combined with interest rates near zero for over two years, have not and will not contribute to increased employment. What is needed is liquidation of debt and malinvested resources. Pumping money into the same sectors that have just crashed merely prolongs the crisis. Until we learn the lesson that jobs are produced through real savings and investment and not through the creation of new money, we are doomed to repeat this boom and bust cycle.
Aaron Dykes
Infowars.com
February 15, 2010
The testimony of Norman Mineta before the 9/11 Commission leaves compelling questions about former Vice President Dick Cheney's actions on the day of 9/11. Then Transportation Secretary Mineta witnessed Cheney refuse to contradict an apparent standdown order as an aide warned of something incoming at the Pentagon. Cheney has given conflicting reports about what time he entered the PEOC bunker. Mineta later confirmed his suppressed 9/11 Commission testimony and refuted Cheney's account of arriving later.
During the CPAC conference, WeAreChange.org confronted Cheney about these questions, which he refused to address.
"Hey Mr. Cheney, what did you do in the underground bunker on 9/11? Dick Cheney we know what you did on 9/11 with the standdown order. Norman Mineta testified against you on the 9/11 Commission report. What happened on 9/11?"

When he was being forced out, WeAreChange.org founder Luke Rudkowski calmly asked security not to push him; security backed off after asking him, 'Are you being polite?'
Luke Rudkowski and James Lane of We Are Change confront Dick Cheney in Wahsington D.C. at CPAC 2/10/2011.
WeAreChangeOklahoma – Newt Gingrich and Dick Cheney (CPAC 2011) [MEDIA NOTE: WITHOUT MUSIC OVER-SCORE]

Cheney dodged the continuing questions by exiting with his entourage into an elevator. As a woman started repeating "Thank you Mr. Cheney for all you've done," Rudkowski interjected that he was a 'terrorist.' Certainly, the use of admittedly elevated terror alerts throughout the Bush administration to stoke the fear card and score political dominion alone is reason to justify this label. The implications of what really happened on 9/11, and in relation to Cheney's apparent standdown order, is even more compelling. Notably, a change in the standard operating procedure for the chain of command during the event of a hijacked aircraft was changed in June 2001, including subjecting NORAD's response to DoD approval (SEE BELOW).
(Click each document for a larger image)
The former Vice President's re-entry into the public limelight, after years of dealing with heart issues, is what appears to be an attempt to re-brand the Bush Administration in time to retain neo-con power in the coming GOP presidential primary field, where tea party politics and candidates like Ron Paul have obviously taken root with conservative voters in the years of the Obama administration. This confrontation occurred during the same CPAC convention where Ron Paul won the presidential straw poll and Dick Cheney was heckled and called a "war-monger" during a pep rally where Donald Rumsfeld was given the "Defender of the Constitution Award."
From Norman Mineta's testimony:
"During the time that the airplane was coming into the Pentagon, there was a young man who would come in and say to the Vice President…the plane is 50 miles out…the plane is 30 miles out….and when it got down to the plane is 10 miles out, the young man also said to the vice president "do the orders still stand?" And the Vice President turned and whipped his neck around and said "Of course the orders still stand, have you heard anything to the contrary!?
Now that establishment Republicans have managed to steer the Tea Party into the political Borg Hive and run off the real patriots, it is time to get the neocon total war agenda back on track.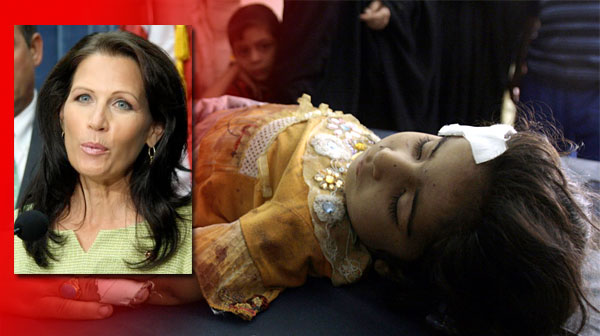 Rep. Michele Bachmann: Just another tool for the neocon mass murder agenda.
Minnesota's Michele Bachmann, like Alaska's Sarah Palin, likes to pretend she is at the center of the Tea Party movement. She talks loud and long about the Constitution and the Bill of Rights.
Last week Bachmann voted for an extension of the Constitution-busting PATRIOT Act.
Stock up with Fresh Food that lasts with eFoodsDirect (AD)
"Today I voted for a temporary extension of three legal authorities in the Patriot Act," Bachmann wrote on her Facebook on February 8. "This vote was not for a full reauthorization of the Patriot Act. As a member of the House Intelligence Committee, I look forward to briefings and reports from our intelligence community that will help us develop longer term solutions as we protect our nation against international terrorism."
"Today's vote was for a ten-month extension of three provisions that would have expired later this month," she posted on her House page. "These provisions maintain the flexibility that our intelligence community needs to monitor terror suspects and protect our country against international terrorism. As a mother of five and a foster mother to 23 children, I voted for these authorities so that our laws keep pace with the evolving threats posed by terrorists."
As a member of the House Intelligence Committee, it is fair to assume Ms. Bachmann is a tool for the CIA and the Pentagon and buys into their phony war on manufactured terror.
But then she always was a dupe for the neocons. Michelle Bachmann was so enamored with the war criminal George W. Bush, she felt compelled to hug and kiss him after his State of the Dis-functional Union teleprompter speech a few years ago.
Bachmann kisses war criminal and neocon tool George Bush.
The Bachmann-Palin neocons in Tea Party camouflage are going to take us down the same road as Bush – the same road followed unswervingly by Obama.
The globalist puppet masters need world war in order to sell their snake oil of globalist government and a return of serfdom to the masses.
Bachmann is on the Order Out o Chaos gang's team.
The question is… does she even realize it?