Leaked email to Bachmann campaign indicates decision to limit air time for certain candidates was deliberate CBS News policy

Paul Joseph Watson
Infowars.com
November 13, 2011
Congressman Ron Paul was a victim of what later transpired to be a deliberate policy on behalf of CBS News to restrict the air time of certain candidates during last night's Republican debate, after he was afforded just 90 seconds of speaking time during the course of the event in South Carolina last night.
Paul's campaign reacted furiously to the Texan being limited to 90 seconds in what was a 90 minute-long debate, with Campaign Manager John Tate blasting out an email entitled "What a Joke," in which he stated, "It literally made me sick watching the mainstream media once again silence the one sane voice in this election. The one dissenter to a decade of unchecked war. The one candidate who stands for true defense and actual constitutional government. Ron Paul was silenced, in perhaps the most important debate of the cycle."
A scientific study undertaken by the University of Minnesota last month confirmed that Ron Paul had been given the least speaking time out of all the Republican candidates during the debates, even less than the likes of John Huntsman and Rick Santorum, who have routinely been beaten by Paul in national polls.
As Marc Fortier points out, an email inadvertently sent to Michelle Bachmann's campaign clearly indicates that certain candidates were given less air time as a result of a deliberate CBS policy.
When a CBS staffer referenced how Bachmann's campaign had made representatives available for an after-debate webshow, CBS News political analyst John Dickerson responded by saying, "Okay let's keep it loose though since she's not going to get many questions and she's nearly off the charts in the hopes that we can get someone else."
Dickerson's admission that CBS had deliberately ensured Bachmann was "not going to get many questions" during the debate indicated "a planned effort to limit questions to Michele Bachmann at tonight's CBS/National Journal Debate," the Bachmann campaign said in a statement.
Obviously, that policy of limiting air time to certain candidates was also applied to Congressman Ron Paul, despite the fact that he has consistently won straw polls and proven himself as a top tier candidate in national polls.
As we have documented, despite his popularity the establishment media has deliberately downplayed and sidelined Paul's campaign.
After Ron Paul finished a close second to Bachmann in the highly regarded Ames straw poll, and was subsequently blacklisted by the corporate press, Politico's Roger Simon said the reason for him being ignored was that "the media doesn't believe he has a hoot in hells chance of winning the Iowa caucuses, the Republican nomination or winning the presidency, so we're gonna ignore him."
"We are in the business of kicking candidates out of the race," CNN host Howard Kurtz responded.
Video: Ron Paul Gets 89 Seconds In Tv Portion Of CBS Debate

Kurt Nimmo
Infowars.com
November 13, 2011
Once again, Rep. Ron Paul represented the voice of reason at the latest Republican debate held on Saturday in Spartanburg, South Carolina.
Asked about attacking Iran, Paul said the president is obliged to follow the Constitution and go through Congress before attacking the country. He compared the current situation to the one before the United States launched its invasion of Iraq in 2003.

"I'm afraid what's going on right now is similar to the war propaganda that went on against Iraq," he said.
Mitt Romney and Newt Gingrich strongly advocated going to war with Iran. Romney said that if "crippling sanctions" fail, military action would be used because it is "unacceptable" for Iran to become a nuclear power like the United States, Russia, Britain, China, France, India, Pakistan, North Korea and Israel.
"If we re-elect Barack Obama, Iran will have a nuclear weapon. And if you elect Mitt Romney, Iran will not have a nuclear weapon," said Romney.
Last week in a Wall Street Journal op-ed, Romney said that as president he would send war ships to the region and work with Israel to undermine Iran.
Gingrich advocated "maximum covert operations" and assassinating Iran's scientists. He said the United States should destroy Iran's "systems, all of it covertly, all of it deniable."
He previously said as president he would "green light" an Israeli attack on Iran. He doesn't think it right for the United States to tell an ally and one "whose people have already endured one holocaust" that it may not do what it deems necessary for its own survival.
Gingrich has also called for bombing Iran's oil refinery in addition to its nuclear facilities.
Herman Cain did not advocate attacking Iran directly but said the United States should increase sanctions, deploy ballistic missile warships, and assist the CIA's color revolution effort to topple the country's government.
Prior to the latest debate, Rick Santorum released a radio ad bragging about his experience on the Armed Services Committee and his efforts aimed at Iran. He also called for covert attacks on Iran and the murder of its scientists.
In 2009, Iran said it discovered an effort by the CIA to orchestrate a "soft revolution" in the country. The plan was based in Dubai and similar to a U.S. plan that targeted the Soviet Union in 1959, according to the director of the counterespionage department of the Intelligence Ministry.
Iran blamed the Woodrow Wilson Foundation, the Soros Foundation, AIPAC, and said agents in the Azerbaijan Republic, Turkey, the United Arab Emirates, and Kuwait were used in the effort.
At the time, the Brookings Institute produced a report calling for provoking war with Iran, arming and supporting terrorists within the county, and funding and organizing a color revolution.
A terror campaign against Iran's nuclear scientists is already underway. In August, Iran prosecuted a man it claimed was part of an Israeli assassination effort.
A source in Israel's intelligence community told the German magazine Der Spiegel earlier this year that Mossad was behind the assassinastion of Dariush Rezaeinejad, a member of the Atomic Energy Organization of Iran. Iran has blamed Mossad, the CIA and MI6 for assassinating its scientists.
In May of 2007, then president Bush gave approval to the CIA to launch a covert "black" operation to destabilize the Iranian government, according to current and former officials in the intelligence community.
The United States has supported and encouraged the Iranian militant group, Jundullah, that has conducted deadly raids inside Iran.
The al-Qaeda affiliated Sunni terrorist group has launched a number of attacks, including one in October of 2009 that killed over forty people. The CIA has supported other terrorist groups in Iran as well, including Mujahedeen-e Khalq.
On Saturday, Iran's FARS News Agency pointed to research conducted by Prison Planet.com and Paul Joseph Watson citing "several credited and credible individuals, including US intelligence whistleblowers and former military personnel" revealing that the United States is currently conducting covert military operations inside Iran using guerilla groups to carry out attacks on the Islamic Revolution Guards Corps.
They are here! Hot off the Press!
Yes the Ron Paul Mask is here and they are flying out of the warehouse as fast as we can make them.
Ron Paul Masks Are Here! Custom-over-sized, full-face latex- masks, with material-stretch-straps and padded-foam-inserts!
All the wonderful creations of DDI are the most intensely original over-sized masks you'll find anywhere! Hand poured and painted in incredibly vivid colors, each Deluxe Mask appears to be absolutely alive with movement and must be seen to be believed!
We searched the Internet for the best Ron Paul mask we could find and we could not find anything worthy of Ron Paul's campaign until I found DDI. They were just getting ready to go to press with their mask and we negotiated a deal to distribute them as soon as we could see the final quality. Well we saw them and here they are act now before our stock runs out.
Kurt Nimmo
Infowars.com
October 8, 2011
Ron Paul has won another straw poll, indicating he is the choice for many if not most voting Republicans.


Demonstrating that the influence of establishment Republicans remains strong in the party, Herman Cain came in a distant second.
Cain recently made the news when he said unemployment is basically the fault of the individual and not transnational corporations that have sent most of the decent jobs to slave labor gulags in China and Asia.
Cain is the former boss of the Kansas City Federal Reserve.
Here is the poll breakdown:
Ron Paul – 36.9% (732)
Herman Cain – 22.5% (447)
Rick Santorum – 16.3% (323)
Rick Perry – 8.4% (167)
Michele Bachmann – 7.9% (157)
Mitt Romney – 4.4% (88)
Newt Gingrich – 2.7% (54)
Undecided – 0.7% (13)
Jon Huntsman – 0.1% (2)
Note that the current darling of the global elite, Mitt Romney, comes in at a dismal 4.4%. Even the wash-out and faux Tea Party cowboy Rick Perry does better than Mitt.
Paul Joseph Watson
Infowars
Monday, June 20, 2011
Every indication suggests that Bilderberg-approved Texas Governor Rick Perry is set to become the frontrunner in the Republican race to challenge Barack Obama for the presidency, illustrating once again how a shady, secretive and undemocratic global elite holds the reigns of true power while Americans are distracted by the delusional notion that they have a genuine choice in 2012.
"Perry has said he will announce his decision soon. One member of his campaign team said he was closer than ever to joining the race and he was testing the prospects in the early caucus and primary states of Iowa, New Hampshire, Nevada and South Carolina. If he does stand, Republicans at the New Orleans conference predicted he would become the frontrunner of a so-far uninspiring field," reports the London Guardian.
Texas Governor Perry, a protégé of Karl Rove, is very good at acting like a down-home populist, but that's all it is – an act. Perry is George W. Bush 2.0.
While spewing Tea Party-style rhetoric about secession, shooting coyotes and courting the favor of Christian evangelicals, behind closed doors Perry has been quietly selling out Texas to globalist interests, auctioning off highways to foreign companies to turn them into profit-driven toll roads.
"Speculation that Perry is the Bilderberg group's ace card was prompted by the current political climate, which can largely be gleaned from the fact that Perry is a longtime, unwavering supporter of the NAFTA Superhighway and related infrastructure projects," wrote AFP's Jim Tucker earlier this month. "These pave the way for the Bilderberg-supported North American Union (NAU) proposal that would merge the U.S., Canada and Mexico."
Perry has also given enthusiastic support to former Mexican President Vicente Fox's efforts to turn Texas into a sanctuary state for illegal immigrants. He also aggressively promoted the Rockefeller Foundation-backed HPV vaccination campaign in Texas that has led to deaths worldwide. David Rockefeller is a prominent Bilderberger, attending each annual meeting without fail.
Perry attended the June 2007 Bilderberg conference in Istanbul, Turkey, and in doing so violated the Logan Act, a United States federal law that forbids unauthorized citizens from negotiating with foreign governments.
Look beyond the rhetoric and study what Perry has actually done in his role as Governor – he's the ultimate globalist – his every action illustrates how he's the diametric opposite to the image of the Tea Party populist that he attempts to portray. That's why he's the perfect pick for the globalists, someone who can suck in the trust of the American people only to stab them in the back upon becoming president, just as Obama did before him.
Bilderberg has proven its kingmaker role time and time again not just in US politics but worldwide. Bill Clinton was a little-known Governor of Arkansas before he attended a Bilderberg meeting in 1991 and went on to become President a year later. Similarly, British Prime Minister Tony Blair attended Bilderberg before his election in 1997. According to Euro Weekly News, Maria Dolores De Cospedal's attendance at Bilderberg 2011 in St. Moritz Switzerland also "augurs a victory in Spain's next general election" for her Partido Popular party.
Obama himself was reportedly vetted by Bilderberg when he infamously disappeared to a secret location with Hillary Clinton in June 2008 in Northern Virginia, at precisely the same time and location the Bilderberg Group were convening in Chantilly. Bilderberg luminary James A. Johnson was also responsible for selecting Obama's running mate Joe Biden, having also previously selected John Edwards as John Kerry's right hand man in 2004 after Edwards had impressed Bilderberg elitists Henry Kissinger and David Rockefeller with a speech he gave at the globalist confab in Italy that year.
In a comparatively weak GOP field, the establishment cannot take any chances in allowing Ron Paul to gain momentum as the only candidate who has a real chance of defeating Barack Obama.
As polls have shown, out of the Republican candidates, only Ron Paul has a realistic hope of success in a hypothetical run off against Obama – the other candidates are equally unpopular as the President.
Despite the fact that Mitt Romney has been anointed by the establishment as the Republican favorite, a May CNN poll found that he would lose by 11 points if he got the nomination and went head to head with Obama, whereas Paul only trails the President by 7 points.
Bilderberg's continual influence in picking US presidents and potential vice-presidents again serves up a reminder that the real power structure steering the planet goes beyond teleprompter-reading puppet presidents and rests in the hands of multi-generational globalists, central banking moguls and the CEO's of the world's biggest corporations, all of whom routinely attend the Bilderberg Group confab every year.
Watch the clips below in which Rick Perry's connection to the NAFTA Superhighway and the North American Union is documented, as well as Alex Jones' protest of Perry's globalist agenda.
*********************
Paul Joseph Watson is the editor and writer for Prison Planet.com. He is the author of Order Out Of Chaos. Watson is also a regular fill-in host for The Alex Jones Show.
The American Dream
February 17, 2011
For a moment, imagine that you are awakened one night by a heavily-armed team of federal agents dressed in all black breaking into your home.  As you confront them, they hand you a piece of paper that says that your son has been identified as a "terrorist" and that they are there to take him away.  They pull your son out of bed, they throw him on the floor and the use a taser on him repeatedly.  Then they handcuff him and haul him away without telling you a thing about where they are taking him.  Your son suddenly has no rights because the Patriot Act supersedes the U.S. Constitution.  That's right – because your son has been identified as a "terrorist" because of something that he has said on the Internet he no longer has any constitutional rights.  Your underage son is held indefinitely and is subjected to "enhanced interrogation" because he has been identified as a "threat".  You are not able to get your son back for years even though it turns out that he is completely and totally innocent.  If you think that such a thing cannot happen to you then you are a fool, because this kind of thing is happening over and over across the United States and it is all legal because of the Patriot Act.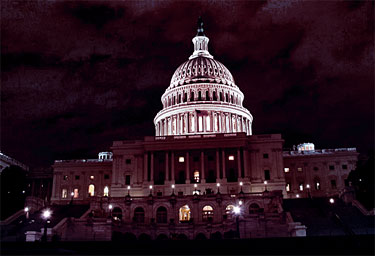 America is rapidly turning into a horrible Big Brother police state and most of our politicians are fully supporting this transformation.  In fact, the U.S. House of Representatives gave us quite a Valentine's Day gift the other day when it voted to once again extend provisions of the Patriot Act that allow for domestic surveillance of American citizens, wire tapping of American citizens and warrantless searches of the homes of American citizens.
What was perhaps most disappointing was that a large number of "Tea Party politicians" cast votes in favor of renewing the Patriot Act provisions.
The majority of Americans were absolutely disgusted when the Bush administration instituted the Patriot Act and many other police state measures and they voted for Barack Obama hoping for something different.
Well, it turns out that Barack Obama has been even worse.
Have you been to an airport lately?  Yeah, those "naked body scanners" and "enhanced pat-downs" are a lot of fun, aren't they?
Many Americans voted for Tea Party candidates during the last election hoping that they would be willing to stand up for liberty and freedom.
Well, it turns out that many of them caved when it came time to vote on the extension of Patriot Act provisions.
So is there anyone out there that we can vote for that will stand up for liberty and freedom?
The truth is that this is not a conservative issue and it is not a liberal issue.
This is an American issue.
But doesn't the Patriot Act keep us safe from terrorism?
No.
Just the other day Dr. Vahid Majidi, the FBI's assistant director in charge of the FBI's Weapons of Mass Destruction Directorate, admitted that even with all of our "security measures" the chance that the U.S. will be hit a weapon of mass destruction is 100 percent….
"There's a probability of 100 percent that a WMD event will happen."
But even if the Patriot Act could keep us "safer", is that any reason for us to live the rest of our lives as "cattle" in a Big Brother police state that is becoming more like George Orwell's 1984 every single day?
Are we willing to forever renounce being "the land of the free and the home of the brave" just so that we can feel a bit more secure?
The truth is that the U.S. government is not really protecting us anyway.  Our border with Mexico is wide open and millions of people have been pouring across it unchecked.  It would be ridiculously easy for any potential "terrorists" to smuggle dangerous weapons into this country.
So please don't try to tell me that the U.S. government is actually serious about national security.  Until the U.S. government is willing to do something about the border they should not be asking the American people to give up a single ounce of liberty or freedom for the sake of "security".
But instead of securing the border and doing other practical things that would actually keep this country safer, our government has become absolutely obsessed with watching us, tracking us, listening to us, "assessing" us and controlling us.
In the process, the America that we all once loved is rapidly being destroyed.  Because of laws like the Patriot Act, our country now more closely resembles East Germany during the Cold War than the nation that our founding fathers originally established.
Government whistleblower Susan Lindauer, who has been arrested under the Patriot Act for protesting the Iraq war, recently authored an article in which she described why Americans should be much more frightened by the Patriot Act….
The American people are not nearly as frightened as they should be. Many Americans expect the Patriot Act to limit its surveillance to overseas communications. Yet while I was under indictment, Maryland State Police invoked the Patriot Act to wire tap activists tied to the Chesapeake Climate Action Network, an environmental group dedicated to wind power, solar energy and recycling. The DC Anti-War Network was targeted as a "white supremacist group." Amnesty International and anti-death penalty activists got targeted for alleged "civil rights violations."
Lindauer is speaking from experience when she talks about the Patriot Act.  Just hope and pray that you never have to go through what she had to go through because of the Patriot Act….
I cannot forget. I cannot forget how I was subjected to secret charges, secret evidence and secret grand jury testimony that denied my right to face my accusers or their accusations in open court, throughout five years of indictment. I cannot forget my imprisonment on a Texas military base for a year without a trial or evidentiary hearing.

I cannot forget how the FBI, the US Attorneys Office, the Bureau of Prisons and the main Justice office in Washington — independently and collectively verified my story— then falsified testimony to Chief Justice Michael Mukasey, denying our 9/11 warnings and my long-time status as a U.S. intelligence Asset, though my witnesses had aggressively confronted them. Apparently the Patriot Act allows the Justice Department to withhold corroborating evidence and testimony from the Court, if it is deemed "classified."

I cannot forget threats of forcible drugging and indefinite detention up to 10 years, until I could be "cured" of believing what everybody wanted to deny— because it was damn inconvenient to politicians in Washington anxious to hold onto power.
At least there are a few members of Congress that attempted to oppose the renewal of the Patriot Act. For example, Senator Rand Paul recently explained why he opposes renewal of this freedom-killing law….
"The Senate yesterday proposed a three-year extension of the PATRIOT Act, a move that would not have allowed for any hearings, amendments, or debate. I objected to this deal. I realize that I might not have the votes to stop this bill, but we should at least discuss this in public as adults.

"We should have the opportunity to explain why the Constitution is being violated. We should talk about how we do not have to give up who we are in order to fight terrorism. It is not acceptable to willfully ignore the most basic provisions of our Constitution—in this case—the Fourth and First Amendments—in the name of 'security.'"
Unfortunately, most of our other politicians have stood by and have done nothing to stop the horrific abuses that are taking place under this law.  A good friend of ours, Charlie McGrath, recently lamented this fact in a recent video….
What in the world is happening to this country?
One of the worst things about all of this is that Christians are actually some of the strongest supporters of the Patriot Act.
The mainstream media has brainwashed many of them into believing that the Patriot Act is "conservative" and that it is going to keep us safe from terrorism.  Somehow Christians have been duped into believing that the more power Barack Obama and his minions have to control our lives the safer we all are going to be.
But the truth is that laws like the Patriot Act are transforming this nation into a totalitarian regime.  We are becoming more like North Korea, Communist China, the USSR and Nazi Germany every single day.
As a Christian, I deeply oppose laws such as the Patriot Act.  The Scriptures warn us of a time when a future world government will attempt to brutally dominate all the nations on the planet.  Just read the book of Revelation some time.
Any law that takes our liberties and freedoms away is another step in the direction of totalitarianism.  Every time another new law like the Patriot Act gets passed we get closer to the time when government completely dominates and controls every single aspect of our lives.
Christians should be loudly denouncing any attempt to strip our liberties and freedoms away.  Christians should be loudly denouncing the destruction of our constitutional rights.
Transforming our government into a hardcore socialist police state and handing it all kinds of extreme "Big Brother" powers is not going to make us safer.
Stock up with Fresh Food that lasts with eFoodsDirect (Ad)
We were sold a pack of lies by the Bush administration and now the Obama administration is trying to cram even more lies down our throats.
Many of us had hoped that Tea Party politicians would be different and would stand up for our liberties and freedoms, but now we can clearly see that many of them will not.
In the past, Americans would ready George Orwell's 1984 and would think that nothing like that could ever happen in the United States of America.
Well, it is happening in the United States of America.
Are you going to stand up and say anything about it?
Paul Joseph Watson
Prison Planet.com
February 16, 2011
In a shocking act of mass public deception, Fox News attempted to skew Ron Paul's 2011 CPAC straw poll win by representing it with footage from the previous year's CPAC event, at which Mitt Romney supporters had loudly booed the result, another example of the continuing dirty tricks campaign being waged against Paul by the establishment media.
Congressman Paul replicated his 2010 victory over Mitt Romney by defeating the former Governor of Massachusetts for a second consecutive year at the annual CPAC conference.
However, before anchor Bill Hemmer introduced a segment concerning the story, Fox News played a clip of the 2010 announcement of the poll results, during which Mitt Romney supporters had loudly booed Ron Paul's victory, passing off last year's footage as representative of this year's event.
Hemmer then proceeded to state, "In the end he was the winner, probably not the reaction he was hoping for," describing the reaction as "mixed applause and boos," before directly asking Ron Paul if he knew who was booing him.
"Who was in the audience booing you, did you get a name, did you get an ID on those people?" asked Hemmer.
In reality, there were hardly any boos after Ron Paul was announced as the 2011 CPAC winner, the result was met with a massively positive reaction, only Fox News deemed it necessary to hide that fact from their viewers. The video clip above shows the real footage from the 2011 event, proving that Fox News had attempted to deceive Americans into thinking that Paul's victory was unpopular, by deliberately using the wrong footage.
A separate We Are Change Oklahoma clip of the 2011 straw poll victory confirms that Paul's win was met overwhelmingly by a loud chorus of cheers and applause.
This is the second time in the space of a week that Fox News has deliberately used dirty tricks to try and ostracize Ron Paul by discrediting the legitimacy of his potential candidacy for president.
A Fox News poll released earlier this week which asked who would make the best president included many of the potential candidates that Ron Paul trounced in the CPAC straw poll, yet the Congressman's name was not even included in the survey.
Exemplifying again how the establishment consistently tries to derail Paul's momentum by ignoring his very existence, obscure names like John Thune and Jon Huntsman were included in the Fox poll and yet Paul was omitted entirely.
While Fox News continues to act as an accommodating platform for the pied pipers of the hijacked tea party movement, people like Tea Party Caucus leader Michele Bachmann and Sarah Palin, real conservatives like Ron Paul and his son Senator Rand Paul are subject to dirty tricks and underhanded ploys.
Given the energetic power of his grass roots base, the establishment is scared to death of Ron Paul building any kind of momentum as the 2012 campaign race nears, which is why they have to resort to pulling stunts like this to hoax the American people into thinking that the message of liberty and freedom is unpopular, when in reality it is spreading like wildfire and would completely overrun the status quo if Ron Paul was allowed to communicate on a level playing field.
—
Paul Joseph Watson is the editor and writer for Prison Planet.com. He is the author of Order Out Of Chaos. Watson is also a fill-in host for The Alex Jones Show. Watson has been interviewed by many publications and radio shows, including Vanity Fair and Coast to Coast AM, America's most listened to late night talk show.
No wonder Conway is tough on drug laws, it appears his brother is a kingpin.
We are watching history of Jack Conway's career sinking into a black hole.
NOTICE HOW THE Courier Journal leaves Jack's name out of the headline!
A Jefferson County prosecutor was tipped off by Louisville narcotics detectives twice in the past two years that he was under investigation for possible drug use or trafficking, according to police records obtained by The Courier-Journal.
When investigators learned of the leaks and interrogated the two detectives and the prosecutor last March, all three initially gave false or misleading statements about what happened, those records show. The statements of Matthew C. Conway, the prosecutor, were made under oath.
Details of the compromised investigations are contained in nearly 700 pages of documents obtained from Louisville Metro Police under the state open-records law.
Conway, the brother of Kentucky Attorney General Jack Conway, had recently resigned from the Jefferson County attorney's office to enter private practice when he learned of the first investigation in early 2008.
UPDATE : Thanks to Galileo this is a new story :
People investigating Conway's brother as well as ethics of Jack Conway were donors to Conway's campaign.
Amid the launch of a new campaign to encourage greater scrutiny of the right-wing "American Crossroads" groups known to many as the "shadow RNC," an activist organization declared that it would give $100,000 to any person who comes forward with "information leading to the arrest and conviction of Karl Rove."
The campaign is being conducted by American Crossroads Watch, an offshoot of Velvet Revolution, which promotes issues key to many progressives activists and represents the political will of dozens of organizations and unions nation-wide.
Their newly launched Web site declares:
Karl Rove created American Crossroads to continue his 40-year history of unfairly manipulating elections on behalf of oligarchs. He joined with the U.S. Chamber of Commerce, a cabal of corporate barons, and other CEOs that want Big Business to control our elections and our government.

Rove's group plans to amass more than $50 million from companies making secret donations, and spend that money to influence elections and buy candidates who will act on behalf of those companies and their deregulatory policies. These same polices brought us Enron, the collapse of Wall Street banks, Bernie Madoff, Jack Abramoff, the Gulf oil spill, the recent coal mining disasters, and the corporate controlled Supreme Court.
We are fighting back on behalf of the 87 percent of Americans who do not want corporations to buy politicians and control our government.
Crossroads Watch specifically refers to the Supreme Court's Citizens United decision, which allowed 527 groups to accept unlimited donations from any source. They and many progressives charge that removing the caps on how much money the wealthy can dump into election advertising has the potential to undermine America's democracy.
In a request for an advisory opinion [PDF link] filed with the Federal Election Commission, an attorney for Protect Our Elections cites reporting by RAW STORY, Rolling Stone and The Huffington Post to build a case alleging that Rove and his groups have effectively replaced the official RNC, hence they should be subject to the same rules and not be allowed unlimited donations. A second request [PDF link], filed with the Department of Justice, urges the protection of the 2010 elections from wealthy individuals and groups who seek to win "by hook or crook."
They further insist that the DOJ "[launch] a specific criminal investigation into American Crossroads/American Crossroads GPS for its coup d'etat of the RNC for the purpose of controlling the United States Government."
Naturally, the offer of a reward for Rove's arrest and conviction was issued by way of an online wanted poster.
In trying to warn candidates away from accepting the support of Rove's group, American Crossroads Watch also launched an Internet ad targeting former executive Carly Fiorina, now a California Republican Party nominee to the U.S. Senate. A list of "targets" was posted on the Crossroads Watch Web site and supporters were urged to contact the candidates and emphasize their opposition to Rove's "laundered" money and "dirty tricks".
A sister organization, U.S. Chamber Watch, last week filed an I.R.S. complaint against the Chamber of Commerce, alleging the conservative, big-business lobby laundered millions of dollars from a group closely tied to embattled insurer A.I.G.
Kurt Nimmo
Infowars.com
September 20, 2010
The establishment is pulling out all the stops to shoot down Delaware Senate candidate Christine O'Donnell.
First it was former Nixon dirty trickster and Bush's brain, Karl Rove, who characterized her as "nutty" and a reprobate for taking two decades to pay off her student loans.
Now a decade old video clip as surfaced where O'Donnell admits to dabbling in witchcraft.

It looks like Ms. O'Donnell will face a withering barrage of negative publicity as she heads into the mid-term elections. Both Democrats and Republicans are determined to trash the real Tea Party and any candidate who appears to be an outsider. O'Donnell, who obviously has a few issues, will be the poster child for that effort. Her idiosyncrasies will be superimposed upon the entire movement.
It is ironic that the establishment would claim O'Donnell is connected to occultism when the practice is at the core of their ideology. From Bohemian Grove to Skull and Bones, the elite are obsessed with the occult.
Skull and Bones, dismissed by the corporate media as a harmless college fraternity, is an offshoot of the German Brotherhood of Death Society. Its roster reads like a Who's Who of the global elite — Bush, Harriman, Phelps, Rockefeller, Taft, and Whitney.
Bohemian Grove, centered around the occult Cremation of Care ceremony, is an offshoot of Skull and Bones. Its elite membership includes the likes of Bush and his son, Richard Nixon, Jimmy Carter, Helmut Schmidt, Arnold Schwarzenegger, Henry Kissinger and other high-powered luminaries, including members of the corporate media that is now demonizing Christine O'Donnell.
Arnold Schwarzenegger likes to wear the SS Totenkopf, or Death's Head — the German word for "skull of a dead man" — as a belt buckle. The Nazis, who slaughtered around 30 million people, were fond of the symbol. Hitler was obsessed with the occult. Schwarzenegger has said Hilter was a great leader.
In 2005, we learned that former British PM Tony Blair and his wife Cherie practice occult ceremonies. In 2004, the London Times revealed that Blair made political decisions based on New Age readings of a hidden force called "The Light," often referred to as Lucifer by occultists.
The global elite know the vast majority of people are turned off by witchcraft and other occult practices and that is why they are using O'Donnell's decade-plus old comment to take her down.
Christine O'Donnell's youthful meandering into witchcraft is certainly worrisome. However, it is nowhere as worrisome as the occultist and satanist obsessions of the people who now rule the planet and are determined at all cost to destroy the Tea Party and any grassroots political movement outside of their control.